A guide to men's archetypes, emotions, and the development of the mature masculine in the world today  by Rod Boothroyd.
A new look at the structure of the male personality and the concept of Jungian archetypes, distilled into a simple and relevant system for understanding men's behaviours, thoughts and feelings. This book is a modern classic, and is essential reading for any man who wants to understand the life stages of men in today's society – and become the best father, lover, husband, partner, and leader he can be.
---
OUT OF THE WOODS: A Guide to Life for Men Beyond 50   By Alan Heeks
Written by MB50 co-founder Alan Heeks, this book is a guide for men beyond 50: complete with route-finder, service areas, scenic highlights and emergency callout advice. It gathers the best wisdom and experience of many men on the skills you need to handle the losses and shipwrecks, and find your way out of the woods. This friendly book offers insights, inspiration, practical advice and resources for further help, and we are very grateful for permission to include several excerpts from some of the most important sections on this site (eg MB50 Help Guides). The basic aim is simple: enjoy your best years to the full!
---
NOT FADE AWAY: staying happy when you're over 64! by Alan Heeks.
The late sixties and beyond are a landmark: a good time to choose what you want from the years ahead, and take stock of the story so far. This short, practical book offers you the new skills, information, resources to help you to be happy in your vintage years.
---
THE GOSPEL ACCORDING TO JOSH: A 28 year gentile Bar Mitzvah by Joshua Rivedal
By the time Josh Rivedal turned twenty-five, he thought he'd have the perfect life—a few years singing on Broadway, followed by a starring role in his own television show. After which, his getaway home in the Hamptons would be featured in Better Homes & Gardens, and his face would grace the cover of the National Enquirer as Bigfoot's not-so-secret lover. Instead, his resume is filled with an assortment of minor league theatre and an appearance on The Maury Povich Show—a career sidetracked by his father's suicide, a lawsuit from his mother over his inheritance, and a break-up with his long-term girlfriend. Tortured by his thoughts, he finds himself on the ledge of a fourth floor window, contemplating jumping out to inherit his familial legacy. In turn he must reach out to the only person who can help him before it's too late. Based in part on his acclaimed one-man show, The Gospel According to Josh is a comedic and poignant true-to-life tale of love, loss, struggle, and survival—a gospel account of one young man's passage into manhood—his twenty-eight-year Gentile bar mitzvah.
---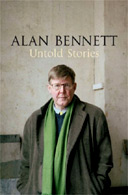 Untold Stories   by Alan Bennett
The untold stories with which the volume opens are stories which Bennett's family concealed because they were sad, shameful or both; his grandfather's suicide, his mother's depression. His writing about his family is utterly absorbing; entirely charitable, but in no way sentimental. Their actions, and the assumptions and limitations that explain why they did as they did, are contextualised with the precise economy of an Old Master painting.
---
You're Looking Very Well: The Surprising Nature of Getting Old   by Lewis Wolpert, 2011
In his new book, You're Looking Very Well: The Surprising Nature of Getting Old, Professor Wolpert covers all aspects of ageing, from the importance of post offices in rural areas to the benefits of voluntary euthanasia.
---