Posts Tagged 'Suicide'
Fred – My Brother by Max Mackay James
Nov
10
2014
Guest Contributor
0 Comments
I miss my brother.  I was 21 when Fred died. He was aged 28. He killed himself, and I was bereaved by suicide.  
You don't get over it – I haven't – and the sadness lasts. But his death is a long time ago now, over 40 years, and these days I find it harder to get in touch with my memories. So I look for ways to help me to remember. 
 Here's the rest of the photograph. I am the chubby little lad on the right. My brother Ferrier – it is an unusual name, and we preferred to call him Fred – is on the left, and my two sisters are between us. Guessing I would say I was about five, and he was about thirteen when the picture was taken.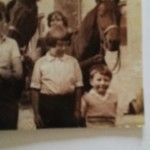 There was always this big gap between us. Eight years difference between you is a lot when you are very young. Then there was his height. He towered over me, so I always remember looking up to him. I loved looking up and watching him doing things, especially his ability to tinker with mechanical things. From a radio to a small petrol engine, it seemed miraculous to me what he could do. As he made these mechanical things burst into life and work, I raised him up to a kind of mythic status. He was my genius/scientist, and I tried to offer myself as his faithful assistant. 
Not that he wanted me to help him! He would refuse, not unkindly but with a clear understanding that I was not capable of helping him in his world of motors and engines. Even then, although I was very young, I could often sense this distance from me. His was another world. It was not just from me, I could also sense his distance from others. I can sense it again now looking at him in this photograph: the distance in his body language – arms folded, a shy look on his face, corners of his mouth turned down. 
So he mostly didn't put up with attention from me, and a gap widened between us. There were other ways the gap was widening between us too, those of time as well as space. There were term times when he was sent away to boarding school – because, as you can guess from the horses in the photograph, we were a middle class family. Later the gap went on widening as he was away at university, and then in his twenties he mostly worked abroad. 
 Here is another photograph of Fred and I together. I would guess it is two or more years later then the first one, so I could be seven and my brother could be fifteen. There is the same arrangement with my two older sisters between us. We have obviously been posed to pretend we are looking up at something in the sky, and, always the willing actor, I am using a telescope as a prop. 
The telescope is interesting isn't it? Because what this photograph tells me is that this is a story of departure. In fact I feel as if this moment is the last time I see Fred.  At least in my mind's eye that is the way it is. He is looking up into a blue sky with a kind of curiosity and longing, and he is saying goodbye to us all. Maybe the telescope was my way of trying to keep him in view. 
There are plenty of later photographs of Fred of course over the next dozen or so years, but they do not connect with me like these early ones do, because I've mostly no idea what he was doing in his life when they were taken. He had gone from my life, and today all I can do is peer into my telescope and try and catch the odd glimpse, looking for a hazy memory out of the few conversations we had when we got together.
Looking up into a blue summer sky, in the photograph I see the beginning of my sadness of separation. The loss is already there, even aged seven, as my telescope tracks the sky.
Of course when Fred killed himself at twenty eight, it was a bolt from the blue. I had had no idea that he was in a crisis. In fact at the time of his death I was three thousand miles away gap year travelling in South America, and not even my longest telescope could have spotted him as he made his descent towards death.
I was suddenly bereaved by suicide, as the saying goes. Not knowing the story how it really happened or being able to see where he was when he died, for me that is still one the hardest parts. The impossibility of seeing him goes on hurting. I miss my brother. The blue sky is empty with his loss.
This is one of three stories of 'Remembrance' I am telling about men in my family who mean the most to me – Grandfather, Father, Brother.
The moment my life changed forever – Ian.
Nov
10
2014
Guest Contributor
0 Comments
I lost my brother to suicide nearly 11 years ago. He was 34 and I worked with him in a fireplace business. When a job opportunity came along for me to work in America for 5 months, he told me to go and pursue my dreams. On coming home I found his business had gone bankrupt, he had lost his home, and his marriage had broken up. He had disappeared, and although a friend of his told me he had gone on holiday, five weeks had gone by and I was quite worried about him. I broke into his flat and found he hadn't gone away at all. He had hung himself and he had been there for 5 weeks. There I was, with my brother hanging in front of me – and he was totally unrecognisable.  I was frozen to the spot.  It was a moment which changed my life forever. Police came and took me home. My wife Joy, to whom I am eternally grateful for sticking by me through my darkest days, took me to my Doctor and explained to him what I'd found. He recommended a long walk. If I'd started walking as he suggested, I might never have stopped (and yes, I changed my GP). Years of private counselling sessions which cost a fortune never satisfied my troubled mind. After 8 years I found SOBS completely by accident on the internet. I rang the helpline and I spoke to a woman called Jennie – another person to whom I'm eternally thankful. After speaking to Jennie, it felt like I'd been let out of prison – my own prison. I had found someone who truly understood my feelings and helped me feel normal again. I realised I wasn't going mad after all. I was grieving for a brother who died tragically. I phoned Jennie on many occasions and travelled to her support group an hour and a half drive from my home. I am truly thankful to her and to SOBS and what they did for me. Looking back, I realise just how far I've come without truly knowing it. I know there are people like me out there who need help to cope with the awful feeling of isolation that suicide brings. I shout about SOBS to all who will listen.  John, another survivor, said, "It's a long and winding road". Never have truer words been spoken. Seeing the people who get involved with SOBS who are themselves on that road, and who want to give something back, gives me a good feeling.
"Have I ever got over my brother's death?" The answer is no, I don't think we ever do get over something like that, but we do move on – sometimes without even knowing it. I even feel we get life in a better perspective.
Ian
"The men in my family" by Max Mackay-James
Nov
10
2014
Max Mackay-James
0 Comments
This is a story that lives in a photograph. It is an old picture in a dusty frame, and I think of it sitting on chests of drawers for many years with nobody bothering to look at it much. But now I do.
The picture is of my father when he was fourteen. We all called him 'Bob' rather than Dad. I don't know why, and I've never found out where the name came from. He wasn't a Robert or anything – his real name was Peter. Growing up, I didn't know anyone else whose Dad was called Bob. The name was a bit magical, it made him special in my eyes. 
It is a studio photograph and the picture is set up as a profile silhouette with the photographer lighting Bob's face from the side against a black background. You can see the photographer's name at the bottom on the right – Noelfreda (with the accent on the 'e'). And you can also just see the date on the left – 1930 (which is how I know he was fourteen years old when the photograph was taken). 
He is wearing a white peaked hat, and there are markings on his epaulette signifying that he is a Royal Navy cadet. I imagine the formal photograph was taken to mark his completion of the first part of his education and training to become a naval officer. Perhaps he is wearing the uniform for the first time. 
So It captures an important transition moment in my father's life, and his rite of passage from boyhood education to young adult life. It is one of the many things I love about this photograph. I don't know if the photographer asked Bob to tilt his head forward for the photograph or he chose to do this himself. Whatever I also love his humility in this gesture of looking down. 
The young man has passed through the cave of darkness and is emerging into the light. I get a timeless quality, the sun is forever rising in front of my father, even if he does not wish at this moment to raise his head to look directly at it. It always gives me a feeling of confidence: here is my father as my humble guide across the years. Even now I am old, indeed old enough to be Bob's grandfather in this photograph, I still get this reassurance from him, from the youth entering adult life in humility with head bowed, and forever showing me the way. 
Except by not looking at the light directly himself and looking down, and there is a second possibility. Perhaps he is not refusing to look towards the future. Maybe he is in a place of darkness and is refusing  to look at the past from where the light comes from the wreckage of history which is on fire. After all Bob was born in 1916. He is a child of the First World War. 
In this second possibility the flames of the past are burning in the darkness of the night. The future is being denied my father,  and his head is turned away from what is to come. Maybe this turning away is actually an act of wisdom on his part. In 1939 he was twenty three, and by then a Royal Navy officer on active service on destroyer warships. So he was pitched straight into the Second World War, and the ships he was on got involved in fighting, first in the Mediterranean and then on Russian convoys which accompanied merchant ships to Murmansk in 1942. 
I don't know what he saw of the horrors of war, and like many men of his generation, and the one before, he refused to talk about it. I also never saw him wear his string of medals. Like in the photograph his head remained bowed and he kept silent. And each year in November around Remembrance Day I find myself conflicted in my feelings about his submissive gesture in the photograph. Yes, on the one hand in his submission I do feel a personal sense of pride for what he did, and the service and sacrifice of his generation which, I have no doubt, has given me a better life. And on the other hand, I hate his gesture of submission to war and the violent and destructive aspects of men, and the masculine systems of authority whose acts of aggression and folly lead to the death of so many, and wrecked and traumatised the lives of so many others. 
Above all I hate his silence, because of course when you don't speak about shadow things – including the horrors of war – you can't speak of other loving things as much as you want to either.
 And still it goes on today. As I get older, and especially during the Remembrance Day month, I want to speak out more and more passionately against these old aggressive and violent patterns of men and masculinity. I need this photograph of Bob to remind and show me how to be different. Inside we men are vulnerable – of course we are! Inside, my father say, men want none of these legacies of violence and long to be free of them. 
I use the photograph of Bob this way to cut through my sometimes conflicted feelings about the past, and what always shines through to me is the tenderness on my father's young face. So I speak out because I know there is a better legacy from history for men than war. It is this tenderness. 
And so I also know Bob's gift of love. 
*Remembrance: this is one of three stories I have to tell about men in my family who mean the most to me – Grandfather, Father, Brother.
Max Mackay-James 
Director of Conscious Ageing Trust – growing Diealog Communities to improve the experience and practice of all our ageing, dying, caring and loss. Men Beyond 50 is a special project in Diealog (www.diealog.co.uk) working to reduce isolation and loneliness in older men . 
November: "Remembrance & Absence"
Nov
10
2014
Guest Contributor
0 Comments
Our lives are our stories, and not all of them are told. We have created the Listening Tree to give everyone a place to  'pin' their stories ('leaves'), memorials, podcasts and photographs. Sometimes there may be a natural theme, such as our Movember 'Remembrance and Absence' month, where we are focusing on Suicide, loss and mental health issues brought about by isolation and depression in older men. We at MB50 and our collaborators have started the ball rolling with 'Our Stories' . Send us yours in whatever form you want – a photo or image would be great but not essential.. tell us in words, recording or images. Be Heard, Be Touched, Be Free.
Why the cat?  Most are great listeners! It is also the name of our supporting charity (Conscious Ageing Trust).
If you would like to send us a story, you might find the contributer's guidelines helpful!
Email us your story at men@www.menbeyond50.net 
The Butterfly Effect of Male Suicide by Josh Rivedal
Nov
10
2014
Guest Contributor
0 Comments
In early 1941, a man named Haakon joined up with the 35th Squadron of His Majesty's Royal Air Force to fight the Nazis. He served as a tail gunner and flew on many missions including the bombing of Paris. In late 1941, Haakon was shot down over Hamburg, Germany. His face was scraped up and he was struck three times in the back of his neck by shell fragments.