John McCririck tribunal panel retires to consider 'ageism' verdict
Published on Wednesday, 18 December 2013 10:08
Julie
0 Comments
John McCririck legal team sought to cast doubt on the credibility of the evidence given by a senior Channel 4 figure as the hearing into his claim for damages against the broadcaster was brought to a close on Monday. Jay Hunt, the station's chief creative officer, had told the employment tribunal last week that she had offered a personal apology to Miriam O'Reilly after O'Reilly, dropped as a presenter of Countryfile when Hunt was controller of BBC1, won her ageism claim against the BBC.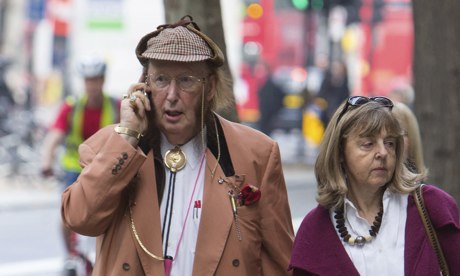 John McCririck, the the horse racing pundit, with his wife Jenny outside the Employment Tribunal in London. Photograph: Mark Thomas/Rex Features
O'Reilly used Twitter this weekend to deny having received such an apology from Hunt, who had to clarify her evidence on Monday. In a supplemental statement put before the tribunal Hunt said her apology came in a Guardian interview in 2011, when she expressed regret for the distress caused. "I used the phrase personal, not to imply direct contact with Miriam O'Reilly, but to differentiate my response from that of the BBC," Hunt's statement said.
The controversy was seized on by Jennifer Eady QC as she made closing submissions on behalf of McCririck, who seeks £3m from Channel 4 and the production company IMG Media. Eady alleged Hunt showed ageism again at the end of last year when deciding McCririck should no longer be part of the broadcaster's racing output. "How reliable was Jay Hunt as a witness?" Eady asked the tribunal.
"When [she] gave evidence, we went through the O'Reilly case. She was at great pains to keep repeating that she had learned the lessons of that case and she said, 'I've apologised personally to Ms O'Reilly.'
"Is expressing regret a personal apology? Of course not. She sought to give you an impression which, frankly, was misleading. You should bear that in mind when looking for undocumented evidence as to Ms Hunt's reasons [for axing McCririck]."
Eady noted that Mike Cattermole, Alistair Down, Derek Thompson and Lesley Graham had also been dropped from Channel 4 racing at the end of last year and he pointed out that all were over 50 at the time.
Thomas Linden QC, for Channel 4, said a finding of discrimination against Hunt could not be sustained, as the decision not to use McCririck was taken by the show's producer, Carl Hicks, in consultation with the station's sports editor, Jamie Aitchison. Their decision was then presented to Hunt, whose only power would have been to veto it, he said.
Linden argued that the famously brash McCririck fell from favour only because Hicks and Aitchison wanted their programme to be more serious and to have broader appeal. Hunt, he said "had a fundamental objection to the sorts of views the claimant was voicing and the persona he was projecting".
"Even if you disagree with her … Ms Hunt clearly did not think highly of the claimant. She couldn't possibly have acted on the grounds of ageism," Linden said.
McCririck has said that no one from Channel 4 ever asked him to tone down his act, to be less outrageous or sexist. Linden, however, ridiculed the pundit's complaint that he could have been a much more serious presenter if required.
"He says, had he been told: 'Be clean shaven and wear a grey suit, please don't be aggressive with the public or call your colleagues by nicknames,' then he would have done that … A touch on the tiller, [he] could have been Des Lynam."
Asked as he emerged from the hearing about his chance of success, McCririck, who says his home is at risk if he loses, replied: "I just don't know. I always said there would never be evidence in writing of age discrimination … But I think the evidence has been overwhelming.
"I'm not an emotional man [but] the feeling from the public, my colleagues, the messages I'm getting … People come up to me in the street and say, John, go and win the case, good for you. I feel like crying.
"I think this is a very, very important case. There are people from their 30s to their 70s, the anonymous suits and skirts come in and they get rid of them because they want youthful people in their organisation."
Judge Alison Lewzey, chair of the tribunal panel, said deliberations would begin this week with the aim of issuing a decision "within a reasonable time". Those with experience of such cases suggested that a result might be expected in mid-November.
The Guardian
This entry was posted on Wednesday, December 18th, 2013 at 10:08 am and is filed under
Ageism
. You can follow any responses to this entry through the
RSS 2.0
feed. You can skip to the end and leave a response. Pinging is currently not allowed.